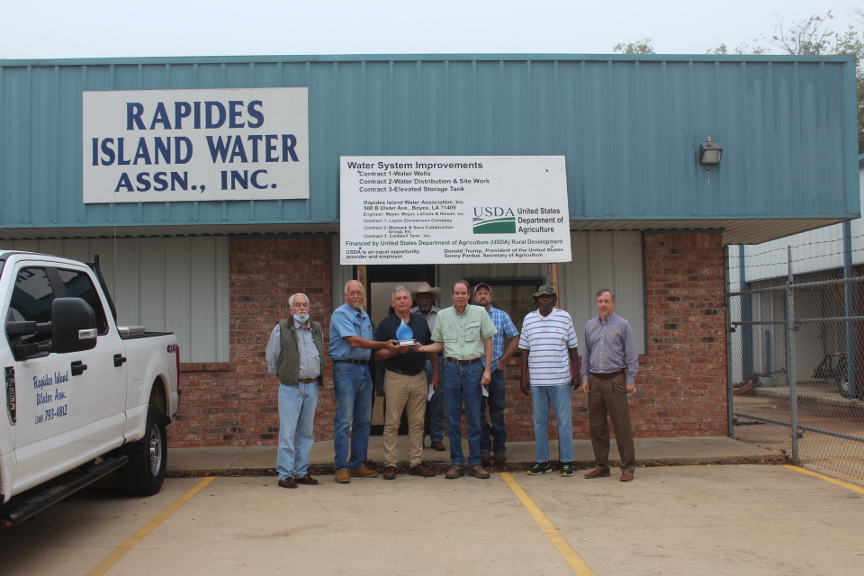 Pictured left to right: Board of Directors, James Downey, Jeff DeKeyzer, Mark Setliff (President), Ronnie Venson, Tracy Breithaupt, Joel Mathews, Emile Williams, Jr. (Vice President), and USDA Rural Development Community Programs Director Tony Matlock
Although this year has been extremely challenging for everyone, we are proud to announce that 2020 brought many positive changes to Rapides Island Water Association and its customers.
We completed improvement projects totaling over $6 million which greatly enhanced and strengthened the infrastructure of our 48 year old water system.
Because of these improvements and our dedication to providing safe drinking water, we were selected by the Louisiana Rural Water Association to receive the "Water System of the Year" award in 2019 for the northern portion of the State. The Board of Directors, System Operator Chad Gipson, Office Manager Jennifer S. Thiels, and the entire staff were very honored to receive this award.
These improvements were made possible with the help of a USDA-RUS loan and grant, our engineer, Heath McGuffee of Meyer, Meyer, LaCroix & Hixson, our dedicated staff and Board of Directors, and most importantly the patience and understanding of our customers.
The projects included:
The construction of a new well,
The construction of an elevated storage tank to help equalize pressure in the distribution system and provide a reliable source of water during power outages,
The construction of two ground storage tanks,
The installation of a unified control system to maintain consistent pressure throughout the system,
The installation of approximately 10 miles of new water mains including new fire hydrants at select locations,
The installation / upgrade of four primary booster stations,
The installation of a drive-by radio read system to replace our existing meters, and
The installation / upgrade of generators.
The replacement of water mains in the Kincaid / Amelia Drive area.
Rapides Island Water Association has provided water service in the area since 1972 and serves approximately 6,000 customers with an estimated 2,000 meters.